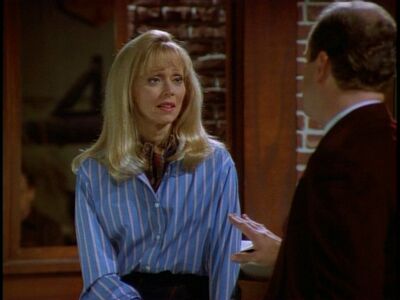 Diane Chambers
left Frasier at the altar during their wedding. She appeared in four episodes, three of which were only dream sequences. In season two, she first appears in a dream that Frasier had after going to a tropical island. Then in season three, Diane visits Seattle to produce a play, but confesses to Frasier she needs help because her life is a mess. Later in the series she appears in a dream sequence in which Frasier's ex-wives, ex-girlfriends and late mother all confront him regarding his romantic failings. Diane is mentioned throughout the series by Frasier and his family as both one of his most important relationships, as well as being the cause of a notable downturn in his life after she left him at the altar.
Ad blocker interference detected!
Wikia is a free-to-use site that makes money from advertising. We have a modified experience for viewers using ad blockers

Wikia is not accessible if you've made further modifications. Remove the custom ad blocker rule(s) and the page will load as expected.